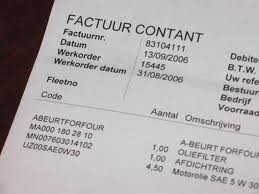 Voldoet uw factuur aan alle verplichte gegevens?
28/08/2011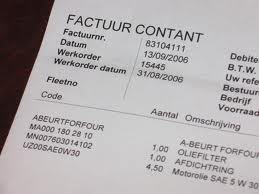 Een factuur is meer dan een gele memo met daarop wat berekeningen en een bedrag dat betaald moet worden. De wet stelt een flink aantal minimumeisen aan een factuur. Hierbij tips om een goede factuur op te stellen.
Kreuze Consultancy kan uiteraard ook uw factuur lay-out inrichten.
Als ondernemer bent u verplicht een factuur te maken voor het product dat of de dienst die u levert. Een factuur moet aan een aantal wettelijke eisen voldoen. Is dat niet het geval, dan kan het zijn dat degene die de factuur betaald het bedrag niet kan aftrekken van de btw. Een afnemer die daar achterkomt, zal geen zaken meer met u willen doen. Daarom is het verstandig om uw facturen op te stellen aan de hand van de voorwaarden die de overheid stelt.
Verplichte gegevens op factuur
Iedere factuur moet voor de belastingdienst een minimaal aantal gegevens bevatten. Het gaat daarbij in het algemeen om het volgende:
Uw btw-identificatienummer (jouw registratienummer van de belastingdienst met 14 tekens, beginnend met NL)
Uw Kamer van Koophandelnummer
Factuurnummer: Dit is de nummering die u zelf hanteert voor uitgaande facturen
Factuurdatum
Datum van de levering of de dienst
Naam en adres van uw bedrijf
Naam en adres van de afnemer
Hoeveelheid, omvang en soort geleverde goederen of diensten
Goederen of diensten per tarief of vrijstelling genoemd
Bedrag exclusief btw
Eventuele kortingen die niet in de eenheidsprijs zijn opgenomen
Het gehanteerde btw-tarief
Vergoeding
Btw-bedrag in Euro's
Bij vooruitbetaling: datum van betaling als deze afwijkt van de factuurdatum
Optionele gegevens in een factuur
Naast de verplichte gegevens kunt u ook een aantal optionele gegevens toevoegen die zorgen voor een professionele uitstraling, zoals:
Huisstijl: Plaats het logo van uw bedrijf bovenaan de factuur. Dit zorgt voor herkenning bij de klant en geeft de factuur een professionelere uitstraling. Ook andere elementen van de huisstijl die je standaard op het briefpapier toepast – zoals lettertype, slogan – kun je in de factuur toepassen.
Factuur: Vermeld op het blad prominent het woord 'factuur'. Het voorkomt dat iemand in de haast niet doorheeft dat dit een vel is waarop staat hoeveel hij moet betalen.
Uiterste betaaldatum: Ieder bedrijf hanteert zijn eigen betalingstermijn. Het is handig om die te vermelden op de factuur. Om verwarring te voorkomen is het aan te raden om de exacte datum te vermelden waarop het bedrag op uw rekening moet staan. Zinnen als 'binnen 14 dagen overmaken' leiden tot discussie wanneer de teller begint te lopen.
Wettelijke rente: Zeker wanneer u weet dat de betreffende klant laks is met betalen, is het zinvol om de wettelijke rente te vermelden die u rekent wanneer er niet binnen de door u gehanteerde betalingstermijn wordt betaald.
Kort en bondig: Een factuur bevat in beginsel maximaal één a4tje. Hoe meer vellen, hoe groter de kans dat de factuur zoekraakt. Bevat de factuur toch meer dan één pagina? Niet de vellen dan in ieder geval aan elkaar.
Specificeer de rekening: U kunt het kort houden, maar u kunt ook te compact zijn. Zorg dat duidelijk is hoe het totaalbedrag tot stand is gekomen, zonder teveel in detail te treden. Kosten waar u aan kunt denken zijn:
kosten product(en)/ honorarium dienst(en)
materiaalkosten
onkosten
btw
Rekeningnummer: Vermeld uw rekeningnummer zodat de klant alle gegevens bij de hand heeft om het bedrag in één keer te kunnen overmaken.

Gegevens offerte: Een ander element om het de klant makkelijker te maken alle gegevens te verzamelen is door het nummer en de datum van de offerte toe te voegen.
Leveringsvoorwaarden: Levert u aan veel verschillende klanten? Druk dan de leveringsvoorwaarden aan de achterkant van de factuur af. Deze moet u in een eerder stadium al vermeld hebben, maar vormen een goede herinnering bij de factuur. U kunt er ook voor kiezen om alleen te verwijzen naar een (online) plek waar de leveringsvoorwaarden te vinden zijn.
Btw-plichtig: Bent u niet btw-plichtig? Vermeld dit gegeven op de factuur, zodat de klant weet waarom u geen (verplicht) btw-nummer op de factuur hebt gezet.
Voorbeelden van factuur
Op zoek naar een opzet om uw eigen standaardfactuur te maken? Doe inspiratie op met behulp van de volgende voorbeeldfacturen: