Kreuze Consultancy is gestart met eAccounting
07/12/2015


eAccounting
Eind 2015 is Kreuze Consultancy van start gegaan met het online product van Visma, genaamd eAccounting. Inmiddels zijn er 50.000 gebruikers.
Zie ook dit bericht.
Reden van aanschaf abonnement
Omdat mijn administratie eenvoudig is en ik graag online mijn administratie wil doen en uiteraard ook mijn klanten moet kunnen begeleiden en adviseren ben ik hiermee gestart.
Informatie delen en reacties
Ik wil graag met jullie mijn ervaringen delen, vandaar dat ik deze blog ben begonnen, heb je vragen stel ze gerust onderaan deze blog.
Online abonnement of proefperiode
Het aanschaffen van de online dienst verloopt eenvoudig. Ik heb gekozen voor Boekhouden en Factureren en ben een contractduur aangegaan voor 12 maanden. Je kunt ook kiezen voor een proefperiode van 30 dagen of een periode van 3 maanden.
Mijn totale (jaar)kosten bedragen € 177,10 (12 x € 15 = 180 -2.90 korting).
Aan de slag met eAccounting
Ik heb direct inloggegevens ontvangen en kan dus direct aan de slag.
Invullen bedrijfsgegevens en het aanmaken van een administratie
Na het invullen van al mijn bedrijfsgegevens moet ik een administratie aanmaken. Dit gaat eenvoudig via een wizzard.
Let even op bij het invullen van het eerste Factuurnummer voor de verkoopfacturen, dit is niet gekoppeld aan een jaar maar wordt ook over het jaar heen doorlopend genummerd. Dus begin deze niet met 20150001 of iets dergelijks.
Administratie overzetten
In mijn geval heb ik al een administratie in een ander pakket, hieruit heb ik een auditfile aangemaakt en vervolgens in eAccounting geïmporteerd. Zie de afbeelding hieronder. Hiermee worden al je bestaande gegevens overgezet en kun je dus op elk moment overstappen. Al je vertrouwde gegevens zoals debiteuren/crediteuren/rekeningschema/btw codes maar ook je boekingen worden geïmporteerd. Super handig!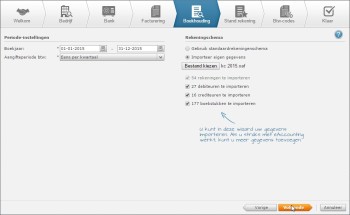 Standaard administratie gebruiken
Als je geen administratie kunt overzetten kun je gebruik maken van een standaard (door Visma) ingerichte administratie.
Nadat ik de laatste stap heb uitgevoerd kom ik terecht in mijn Dashboard.
Dashboard
Ik ga nu verder met het inrichten van Facturering en andere functies, binnenkort meer….
Ondersteuning
Er zijn meerdere instructievideo's via youtube beschikbaar of je kunt een online training volgen via de support site.
Twitter
Volg naast @KreuzeConsult ook @eAccounting_nl voor updates.